OFFICE 365 - SHARING A FILE FROM ONEDRIVE
Instructions for sharing a file or folder from OneDrive, the storage component of Office 365
SHARING A FILE OR FOLDER FROM ONEDRIVE
You can share files and folders in OneDrive with other accounts holders only. If you have a personal OneDrive account, you will not be able to share between the two.
Sharing files allows multiple people to edit the same file simultaneously.

1. There are several ways to initiate a share a file in OneDrive:
Share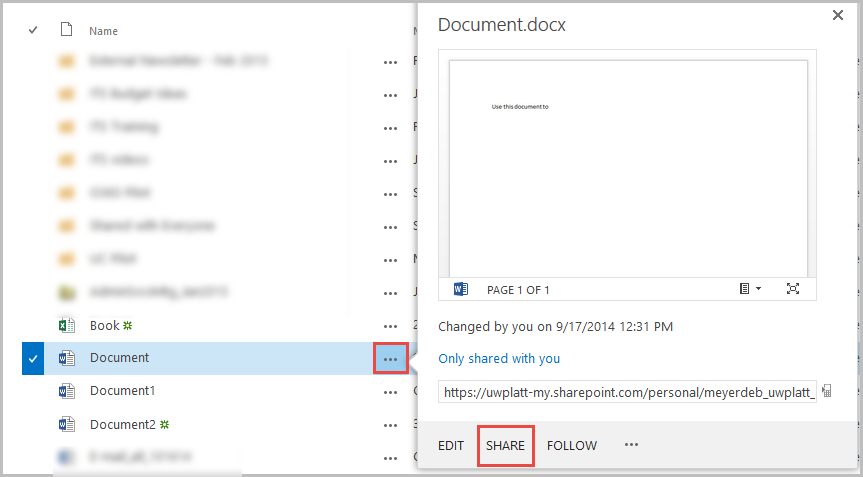 2. In the Share dialogue box, enter email addresses
3. Select permission level: Can Edit (make changes) or Can View (read only)
4. Add a message, instructions, etc, if desired.
5. Sign-in is required by default. Any work-related documentation should require sign-in. For personal documents you wish you make public, uncheck this box.
6. Click Share.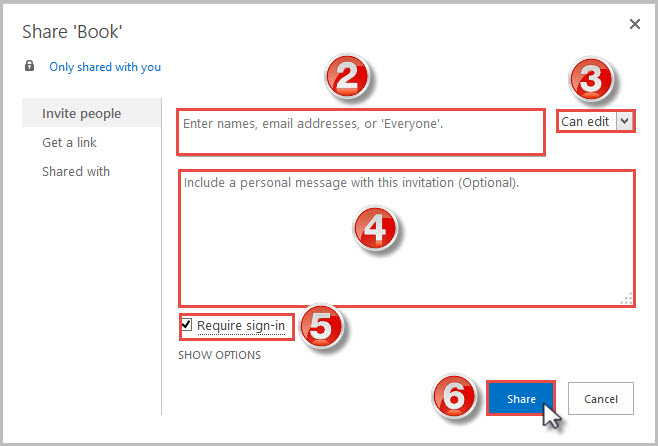 NOTES
Each invitee will receive an email invitation with a direct link to the file.
The shared file is also accessible under Share with me in the recipient's OneDrive.
Recipients must be in Outlook Web App to access shared files.
GUIDELINES FOR STORING FILES IN ONEDRIVE