OFFICE 365 - OWA - CREATE AND SHARE AN OFFICE HOURS CALENDAR
Instructions for creating a new calendar, adding office hours, and sharing it in the Outlook Web App.
1. Create a new calendar for your office hours with the following guide:
2. To share this calendar, and change who can view it, use the following documentation. Change the permissions to "Limited Details." Be sure to select your office hours calendar from the "Select a calendar" drop-down box, rather than leaving it as the default calendar. 3. After changing the permissions and clicking "Save," a URL will appear. This can be used to share your calendar with others - right click the URL and choose "Copy Link Location" to copy this link to your clipboard.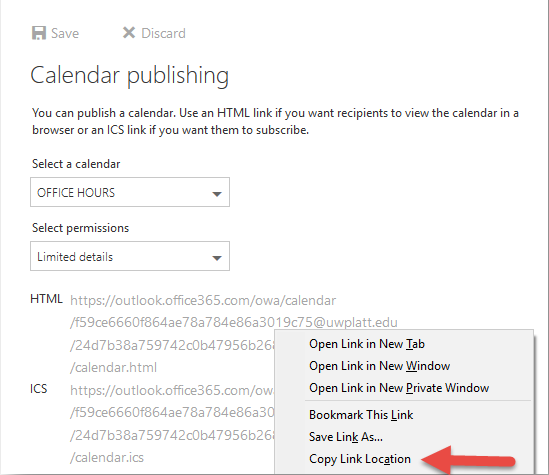 You can paste this link or hyperlink it in an email or a webpage.
NOTE:
4. Add your office hours to this new calendar with the following guide: