How to Install Office 365 on an iPad
Open Safari browser on your iPad and Go to www.office.com/myaccount
Sign in using your Office 365 Subscription email and password.
Scroll down and you will see "Other Devices"
Click on the "iPad" link.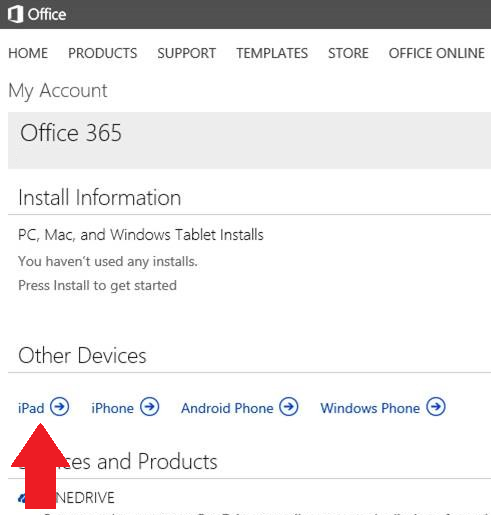 You will be redirected to Office Mobile website.
On the Office for Mobile webpage, Scroll down and you will see the links to install Office one by one.
You can start with Word Application by tapping on "Word" link.
See the screenshot below: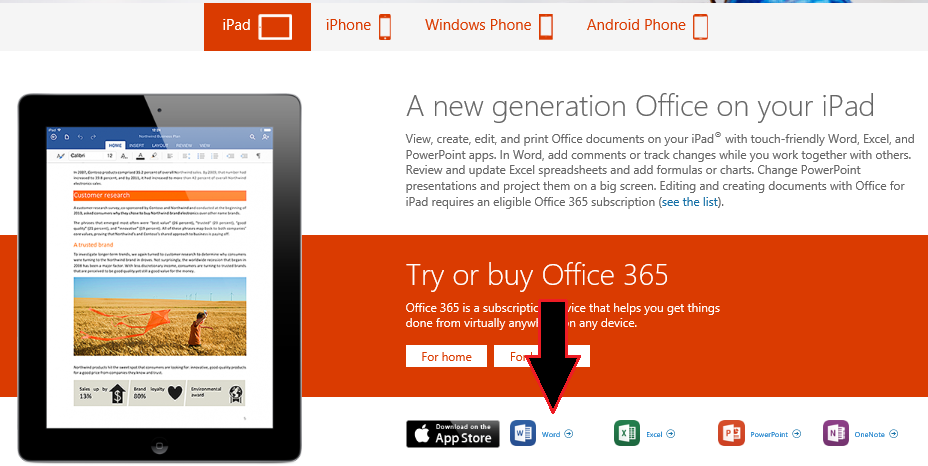 Tip: If you are already on your iPad device right now and is using Safari browser,
Simply click on these links below to install the applications one by one:
Word - Install Word
Powerpoint - Powerpoint
Excel - Excel
OneNote - OneNote
OWA for iPad - OWA
OneDrive for iPad - OneDrive
*Your documents are automatically saved on the cloud as you edit.
Next Steps:
After tapping on the "Word" link, you will be redirected to the iTunes store.
To download and install the application, tap on the "Free" button from the iTunes store page.
To begin install, you will be asked to enter your Apple account "Password".
Enter your Apple Account Password to continue.
Wait for the installation process to finish.
To verify if the application has been installed, you can go to your Home Screen and look for the Office icons to open them.
Note: The download will depend on the speed of your Internet or Wifi connection.
This is what you will see after installing Word on iPad.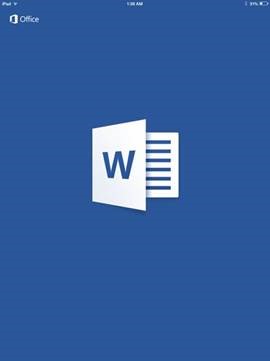 Swipe to the left until you see the option to "Sign in".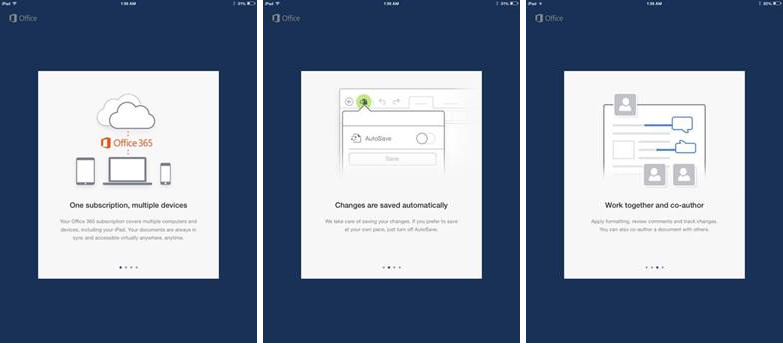 Sign in and enter your Microsoft Office 365 Email and Password to Activate.
If you enter an email that is not associated with Office 365 Subscription, you will not be able to use all the features.
Update: Starting on November 6, 2014 Customers will be able to use core editing functionality to edit documents in Office for iPad for free! Previously, anyone who wanted to edit on their iPad needed to be an Office 365 Subscriber.
In order to get higher levels of editing and functionality features, customers will need to have an Office 365 subscription. These customers will have "Premium" features available to them such as tracking and reviewing changes in Word, customizing Pivot Tables and Excel, and checking speaker notes while presenting in PowerPoint.
Office for iPad Users who choose not to sign into the apps with Microsoft account have view only access.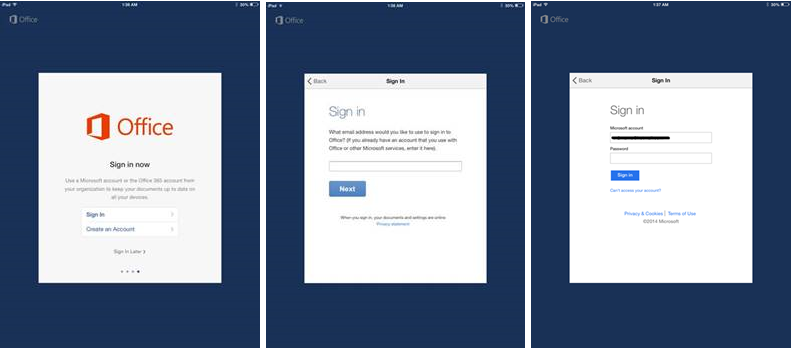 Select "New" from the navigation on the left to create a New Document.
Click "Open" to "Add a Place" or to connect to a Cloud or Sharepoint Service.
Update: Dropbox Integration
From within the Office apps, customers can now add Dropbox as a place to browse, edit and save files to from their iPad or iPhone/iPod touch.
OneDrive with Office 365 subscriptions now have unlimited storage!
OneDrive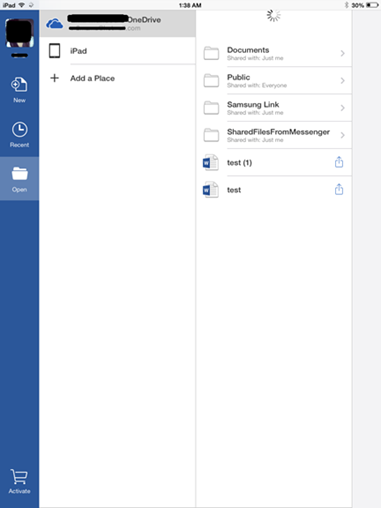 Connect another OneDrive, Dropbox account or Sharepoint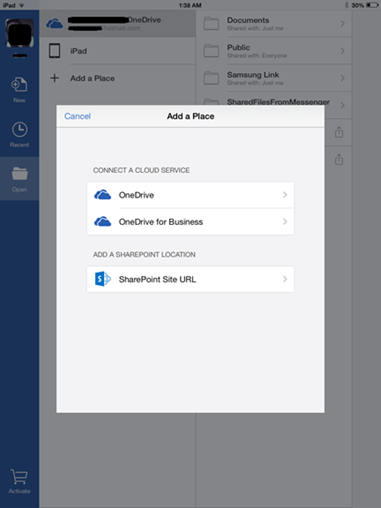 (Note: This screen shot hasn't been updated yet. You should now be able to see Dropbox)
If you have NOT signed in to activate Office for iPad,
Simply tap the Cart icon on the bottom left of the screen.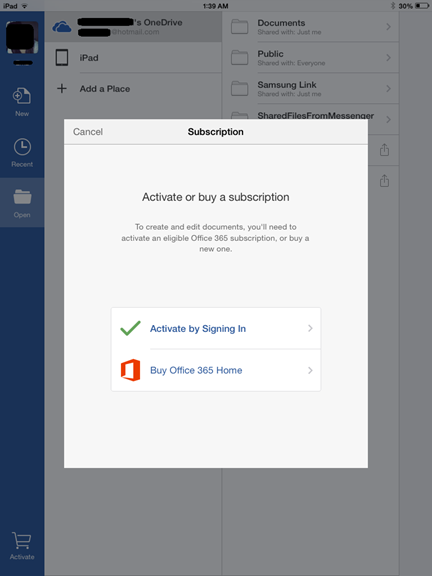 ===================================================================
Word for iPad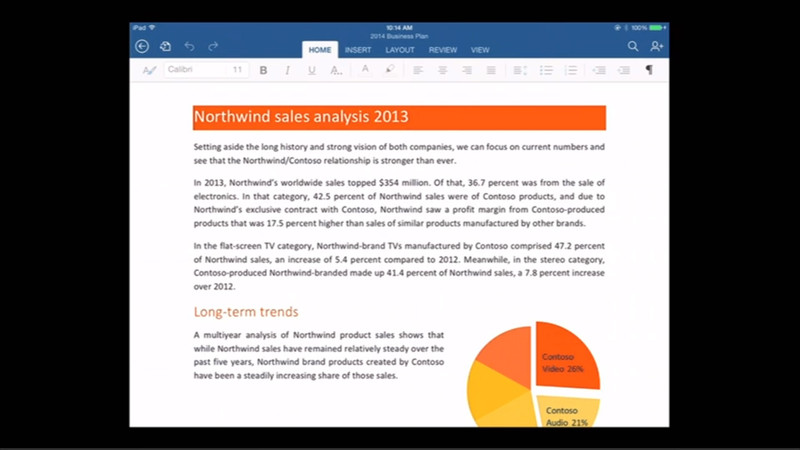 <p style="box-sizing: inherit; margin: 0px; border: 0px; padding: 0px; vertical-align: top; -we