If you're planning to disable WordPress comments just for the sake of protecting your site from spammers and link builders, then we would rather recommend you to use some of the following techniques to combat spam.
Akismet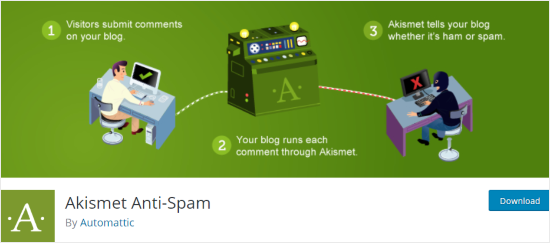 Akismet is one of the best plugins for dealing with spam comments. And the best part is it has been built by the team behind WordPress.
This plugin checks each comment on your site and verifies whether it's spam or not. For more details, you can check out our guide on the Akismet plugin.
Closing Comments
Did you know that you can close comments after a certain period of time?

Head over to Settings » Discussion and check the field that says "Automatically close comments on articles older than 14 days".
This will close the comments form after 14 days automatically. You can also change the number of days based on your needs.
Typically spammers target older posts, so several users change this setting to 180 days which significantly reduces spam.
Honeypot with Antispam Bee
On WPBeginner, we have found it helpful to add a second plugin called Antispam Bee which works alongside with Akismet to significantly reduce comment spam on your site.
It adds an invisible honeypot that blocks 99% of spam bot comments.
Comment Captcha
Though adding a captcha to your comment form is not user-friendly, it still helps you to protect your site from spammers.
You can use the Advanced noCaptcha and Invisible Captcha plugin to add Google reCaptcha just before the submit button of your comment form.
Remove Website URL Form Field
Another way to deal with link builders and spammers is to remove the website URL field from the comment form. Here's an example from the WPForms website: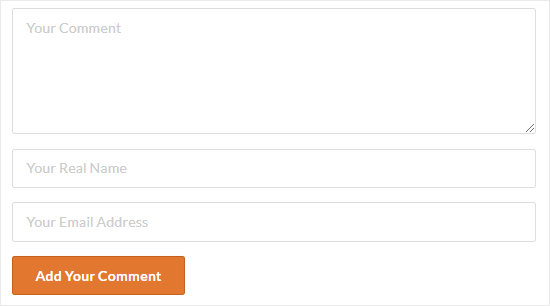 And you can use the Comment Link Remove and Comments Tool plugin for this purpose. It allows you to remove the website URL field from your comment form without touching a single line of code. Isn't that great?
Blocking Bad IPs
You can also block bad IP addresses from accessing your WordPress site. This will help you to block spammers and hacking attacks.