OFFICE 365 - OUTLOOK - VIEW AND MODIFY MEMBERS OF A DISTRIBUTION LIST
As an owner of an email distribution list, one can modify group membership. These instructions apply to distribution lists in the global address book, to lists that have their own @uwplatt.edu email address; not contact groups in your own address book.
Please note: If a distribution list has been hidden from the global address book, you will not be able to view membership of the list.
TO VIEW MEMBERS OF A LIST
Open Outlook 2016
On the ribbon of the Mail tab, click on the Address Book button. The Address Book should open in a new window.

3. From the Address Book list, select Global Address List.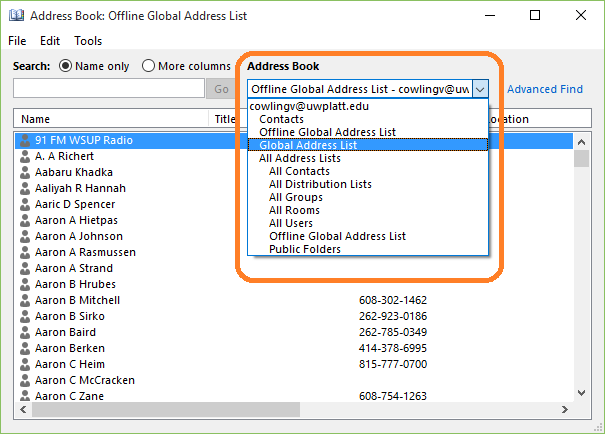 4. Enable the ability to search full names and email addresses by clicking on the More columns option.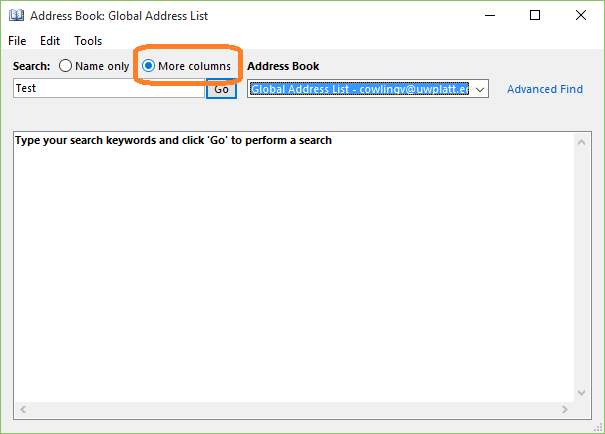 5. In the Search field, type the name or email address of the list you own and want to modify. Click Go.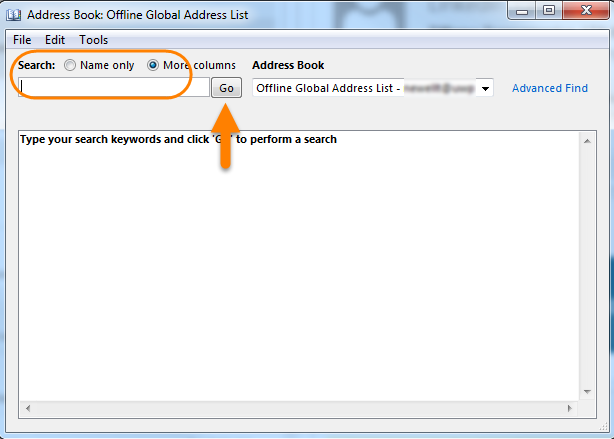 6. Select a distribution list from the search results.
7. Double-click on the list to view membership and other properties of the list.
If you have questions, please contact the ITS Help Desk at 608.342.1400 or helpdesk@uwplatt.edu. You may also visit the Help Desk on the first floor of the Karrmann Library.


TO MODIFY MEMBERS OF A LIST
Follow the instructions above to view the current membership of the list. If your list does not appear in the Global Address Book, it may be hidden and you will not be able to edit membership yourself. Please contact the ITS Help Desk to either change visibility of the list or modify membership on your behalf.
Click on the Modify Members... button of the list properties window. A Contact Group Membership window should appear.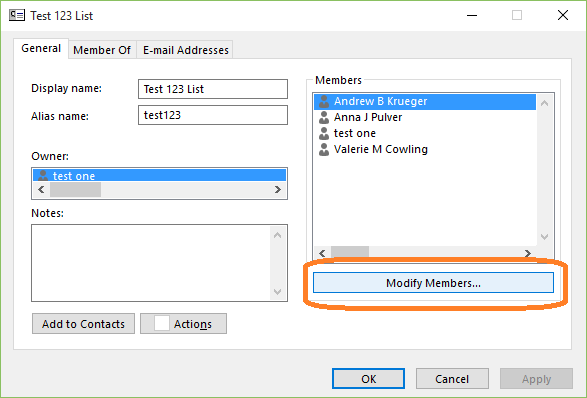 TO REMOVE MEMBERS FROM A LIST
Select the person's name from the Members list.
Click Remove.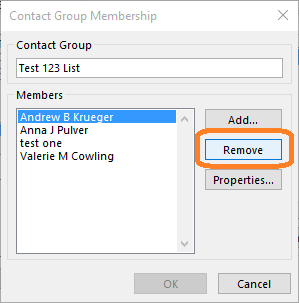 3. Repeat the process for any other people that should be removed from the list. Then, click OK to save changes.
TO ADD MEMBERS TO A LIST
1. Click on the Add... button.
2. On the Add Users window that appears, use the Search feature to find people in the Global Address List or from your Contacts that you want to add to the list.
3. From the results, select the person you want to add and click the Add -> button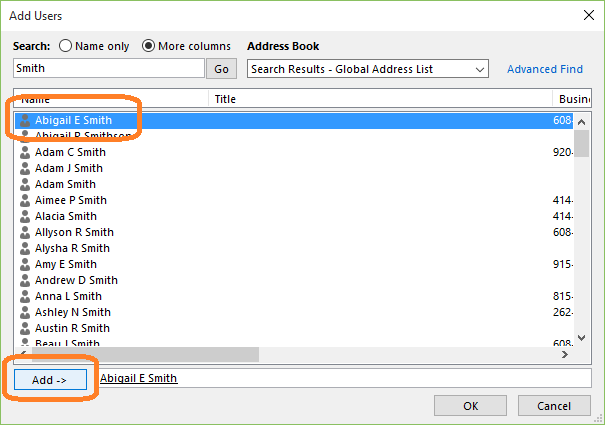 4. When you have finished selecting members, click OK.
5. Verify that the new members have been added by reviewing the Members list.
6. Click OK to apply changes to list membership.