How Do You Schedule a Post in WordPress?
It is easy to schedule WordPress posts if you know where to look. The option to schedule blog posts is not easily noticeable.
Once you have finished writing your blog post, you need to look under the 'Document' tab in the right column of the edit screen.
Under the 'Status & Visibility' panel, you need to click on the 'Immediately' link next to 'Publish' option.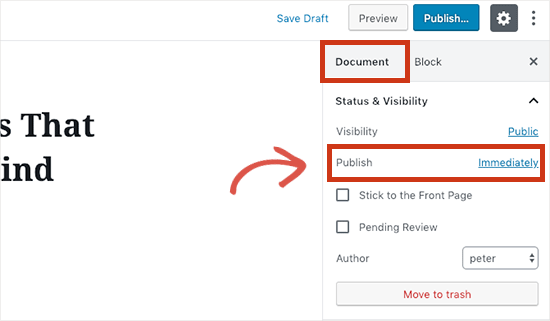 This will show you a date and time picker. You can select the date and time when you want to publish this post.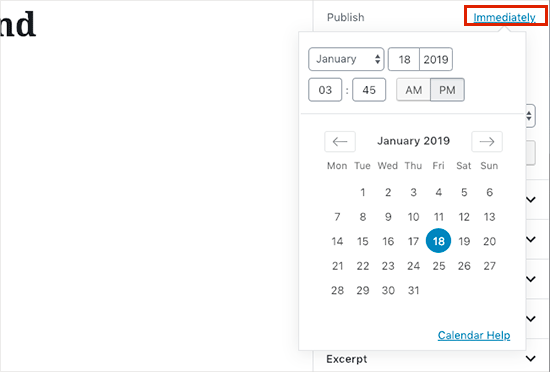 You can select a future date and time to schedule your article in WordPress.
You can also select a past date using the same tool to back date your blog post.
When you select a future date, you will notice that the publish button at the top will change into 'Schedule…'.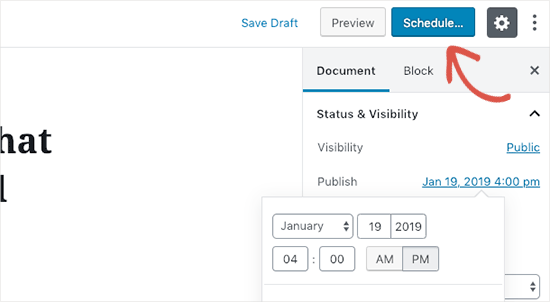 Simply click on the Schedule button and WordPress will schedule your post.
The scheduled posts will be automatically published on the date and time you choose.
How to Schedule WordPress Posts in Classic Editor
If you are using the classic WordPress editor, then we highly recommend you to start using the new WordPress block editor, called Gutenberg.
The new WordPress editor is incredibly fast, modern, intuitive, and helps you create better content for your blog.
However, if you still want to use the older classic editor, then here is how you would schedule posts in WordPress.
Once you are done writing your post, look under the 'Publish' meta box in the right column of the edit screen and click on the 'Edit' link next to 'Publish immediately' option.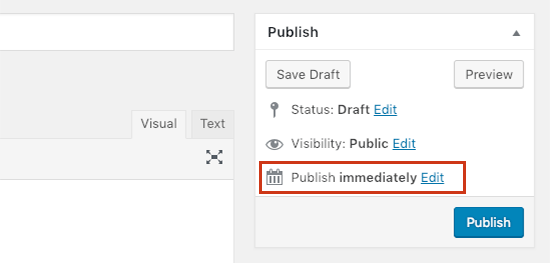 It will now show you the date and time options. Go ahead and enter the date and time when you want to publish your blog post and click on the OK button.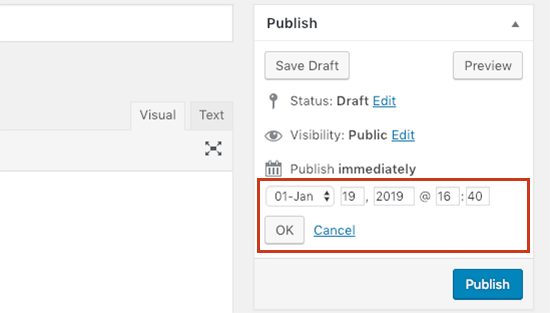 You'll notice that the blue 'Publish' button will now change into 'Schedule'. Go ahead and click on the schedule button to save your changes.
WordPress will now publish your blog post on the date and time you entered.
Troubleshooting WordPress Scheduled Posts
As your website grows, you will be regularly managing and scheduling WordPress posts. Following are some handy tips that will help you efficiently manage your scheduled posts in WordPress.
How do I use my own timezone in WordPress?
You need to change WordPress timezone settings, so that it uses your preferred timezone to publish scheduled posts.
How to view all scheduled posts in WordPress?
Simply go to Posts » All Posts page in your WordPress admin and then click on the 'Scheduled' link above the posts table. It will show all scheduled WordPress posts in the queue.
What to do if WordPress scheduled posts missed schedule?
To run scheduled tasks, WordPress uses a system called WP Cron. If the cron is unable to run due to a misconfiguration on your WordPress hosting server, then your scheduled posts will miss the schedule and won't be published.