The Default Method
Simply go to Settings » Discussion. Under the Other comment settings, you will find the option, Comments should be displayed with the older comments at the top of each page. Click on the drop down menu and select Newer. After that, you need to click on the Save Changes button at the bottom of the page to store your settings.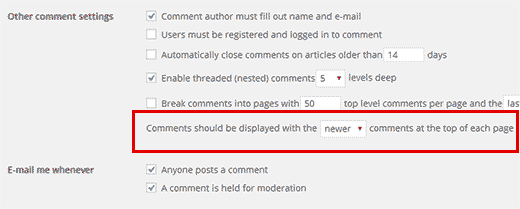 That's all, WordPress will now display most recent comments on top.
Alternate Method
If for some reason the default method does not work for you, then you can try this. Simply add this code in your theme's functions.php file or a site-specific plugin.
Tables can't be imported directly. Please insert an image of your table which can be found here.
1 2 3 4
This code uses the comments_array filter to reverse the display of comments on your WordPress site.