How to Completely Get Rid of Trackback Spam Completely?
The easiest and quickest way to deal with trackback spam is to completely turn it off in your WordPress settings. All you need to do is visit Settings » Discussion page and under the default article settings uncheck the box next to 'Allow link notifications from other blogs (pingbacks and trackbacks)'.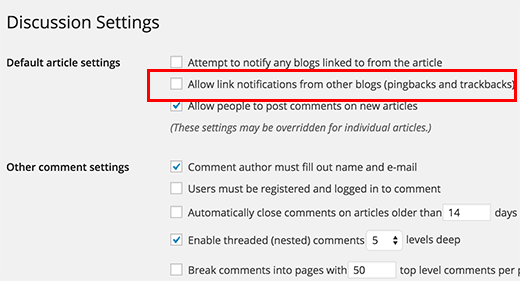 This will disable trackback and pingback spam on your new articles. However you still need to disable trackbacks on existing WordPress posts..
If you do not want to turn off trackbacks and pingbacks, then here is how you can combat trackback spam.

Akismet is one of the two default plugins that come bundled with every WordPress site. The plugin actually connects your website to Akismet anti-spam service.
This is a massive spam filter monitoring millions of sites to catch spam comments and trackbacks.
It generally believed to be just a comment spam moderation tool, but it is also very effective against WordPress trackback spam. If you are not already using Akismet, then you should activate it right away.
Simple trackback validation plugin allows you to stop trackback spam by running simple tests on each incoming trackback. At first it automatically blocks any trackbacks originating from topsy, which is a social search tool used for trackback spam.
It then checks whether the trackback is actually originating from the site it claims to be from. Lastly, it checks if an actual link to your site exists on the trackback source.
This plugin is not a spam protection plugin, but it provides a feature that some site owners might need. As the name suggests, it completely hides WordPress trackbacks and pingbacks from appearing in the comments on the front-end of your website.
It is particularly useful for sites where hundreds of spam trackbacks get published accidentally. You can activate this plugin to hide all spam trackbacks from public and then go to comments section in WordPress admin area to delete all the trackbacks spam.