There are thousands of online stores competing to sell similar products. Choosing a professional design for your store makes a big difference in how customers see your brand.
There are thousands of WooCommerce templates and themes available on the market. While you can use WooCommerce with any WordPress theme, we recommend choosing a WooCommerce-ready theme.
These themes are made specifically for WooCommerce websites, and they will help you make more sales on your website.
Since there are thousands of paid and free WooCommerce themes on the market, this abundance of choices can make it difficult for beginners to choose the perfect design.
To make this easier, we have hand-picked the best WooCommerce ready themes that you can use. All of these are mobile-friendly and highly optimized for SEO and performance.
Astra – One of the top WooCommerce ready WordPress themes on the market. Astra comes with full WooCommerce support, built-in templates for product and shop pages, and dozens of 1-click ready-made websites.
Ocean WP – One of the most easily customizable theme for WooCommerce users.
Shoppe – A modern and highly customizable WooCommerce theme. It comes with its own page builder allowing you to easily create landing pages for your products and campaigns.
Outfitter Pro – A modern, hip, and clean WooCommerce theme made specifically for clothing brands and stores.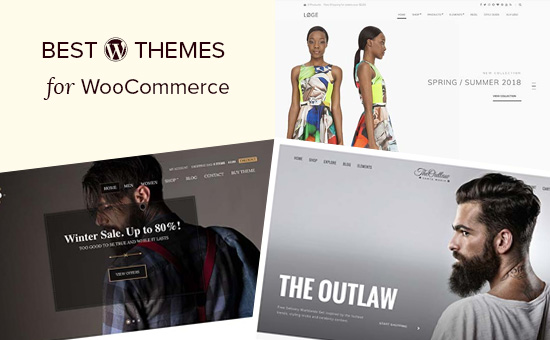 What to look for in a WooCommerce theme?
Looking at all these professionally made WooCommerce themes, you may be wondering how to choose the right theme for your business?
Following are just some basic tips that you can use as a guideline.
Strive for simplicity in design. A simple and clean design helps customers focus on what's important and improves conversions
Test your selected theme on mobile. Most users access the internet from mobile devices so make sure that the theme you are choosing looks great on smaller screens.
Only download themes from WordPress.org themes directory or reliable commercial theme shops. Themes from unreliable sources may have hidden malware which could ruin your business.
Check reviews and ratings to avoid any red flags
Once you have chosen a WooCommerce theme, see our guide on how to install a WordPress theme to set it up.