Set a Recurring Out-of-Office in Outlook
Currently there is no way to directly set a recurring out-of-office in Outlook, but we can get this working via Calendar Appointments:
In Outlook, click the Calendar icon to switch to the Calendar view.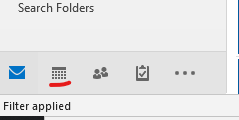 From your Calendar folder, select New Appointment or click Ctrl+N. From any other folder, click Ctrl+Shift+A.



Enter a subject, location, start and end date and choose the desired recurrence.



In the Show As field change the default to Out-of-office.



Click Save & Close to save the appointment.
Advertisement: